Midleton Football Club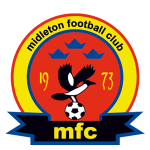 Business Description:
At Midleton F.C. we aspire to provide quality training, development & education for the benefit of the individual, the football club, the community and sport
Midleton Football Club caters for over six hundred players of all ages and is one of the largest clubs in the Munster region. Teams at present include Boys U10, U11, U12, U13, U14, U15, U16, 17, 18, Junior and Senior teams. Also, Girls U12, U14, U16 and U18 team plus our Football Academy for 5 to 10 years and Football For All programme for Boys/Girls 6 -14 years.